Source: Sphere Being Alliance
David Wilcock: Welcome to "Cosmic Disclosure". I'm your host, David Wilcock. I'm here with Corey Goode, our insider's insider. How are you doing, Corey?
Corey Goode: Doing well, thank you.
David: Welcome back to the show. All right, first question is from Schmitz_K, and it is as follows:
"Love the viewer questions. I also have a question of my own. Do the SSP vessels produce gravity or are they a zero G environment? And is gravity severely reduced in the LOC?"
Was there gravity when you were on the ship?
Corey: Yes. They have plates on the floor that create a gravitational field, but also within the bubble of the torsion field, it creates an environment to where they can control the gravity better for some reason.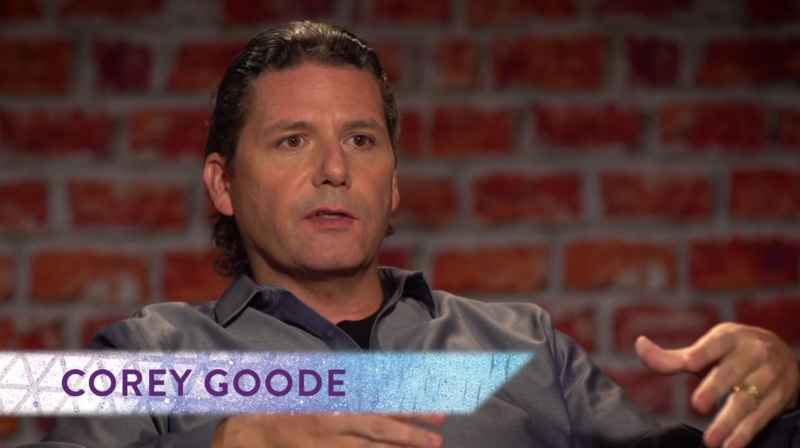 Now, the lower level SSPs, they don't have all of the artificial gravity. So you'll see the monkey bars on the ceiling that you use, you know, for getting around.
David: Oh. If we go back to the German Bell craft, did they have zero G environment when they were flying in those?
Corey: Yes.
David: They did?
Corey: Yeah.
David: The second half of the question was about the LOC. Is there severely reduced gravity in the LOC? I guess they're thinking about the Moon's gravity being less than ours and how the astronauts supposedly bouncing around.
Corey: Right. On the LOC, there was one G of gravity.
David: Oh.
Corey: Now, there are some of the other surface bases that they have that we haven't talked about so much where there is no gravity.
David: Oh, no gravity?
Corey: No gravity, except for, well, the Moon's natural gravity.
David: Right, okay.
Corey: Right.
David: Okay. We have a question from Marcus O., and it is:
"I would like to hear Corey going into more about the work he's done on himself, also more on his high vibratory diet and what work exactly we could be doing on ourselves. I understand that he doesn't want to come across as a leader, and that we shouldn't be 'following him', but some of us would like advice and extra information.
"For people who are trying, i.e. with diet and meditation, what would be some good suggestions for both? It would be nice to hear more about the work we should be doing for this conscious renaissance."
Corey: Well, there is a component to this situation that I'm having my vibratory state augmented just by being in the presence of some of these higher vibratory beings.
David: [David shakes his head in agreement.]
Corey: And I'm getting personal one-on-one advice from them, and it's very uncomfortable advice. About 80% of my communications with them involve them shining lights where I've refused to shine lights.
David: So for somebody who isn't having beings show up in the room with them and giving them a higher vibration just by being in their presence, what are some of the practical steps of people actually achieving that forgiveness?
Corey: Less looking out here for solutions and a lot of introspection. We all have the traumas in life that we think we've put behind us. We don't have to deal with them anymore.
Well, it's time that we start, you know, digging them up, holding them up to the light, and, you know, doing the hard work. This has been very difficult.
A lot of people are like, you know, "You're getting this one-on-one contact. How luck are you."
It's very, very difficult. It's demoralizing at times.
My ego has been so, I guess, massaged in – not in a way to make it bigger but to make me more humble.
Anytime you begin to think highly of yourself, they come, "Wait a minute. Look at this, this and this."
And you know, it puts you back in your place and puts you back on the path.
David: So the question also revolved around dietary issues, and there's another one that we have in here, I think, that is going to cover that as well.
So he was specifically saying he's already trying to do a healthy diet, but what are some of the suggestions that might be of assistance?
Corey: Well, that is definitely a process as well. One of the things I was being told, especially by Tear-Eir, was that I was not practicing what I was preaching.
I was talking about high vibration diets, going home and eating corn dogs and all these nitrates, . . .
David: Right.
Corey: . . . and it was wreaking havoc on my body. I mean, you can see from the first season, you know, how unhealthy I looked.
David: It's amazing, the transformation of how much you've changed. And it really did seem like once you had that contact with Ka'Aree, and you touched her hands, and then you had this mind-meld that something really triggered in you at that point.
Corey: You know, it's a difficult path. Each person's path is different.
I mean, you have to deal with your old traumas. You have to deal with your current behavior that is destructive.
If you don't do that, no matter how spiritually advanced you think you are, you're just deluding yourself.
You have to work and take care of all these little earthly issues that are acting like a parachute to hold you back.
David: So since the question also related to diet, I want to bring up the subject of the weapons system, something that several insiders have talked to me about, the idea that the Cabal itself actually has put in certain ingredients in food that is intended to reduce lifespan, decrease happiness, increase weight, all this kind of stuff.
So are you personally aware of the idea that the food system that we have is being weaponized in certain ways?
Corey: Yeah, our entire environment has been weaponized against us. That's why we've got to mitigate all of those weapons as much as we can.
And in my case, I ended up moving to a vegetarian diet. I was pretty much forced to by getting food poisoning.
David: Right.
Corey: So I was real slow to start practicing what I was preaching.
David: Okay, so the next question is from Sedona Visionary, and it says:
"Corey has mentioned more than once that he uses a technique for releasing negative entities from his energy field. I would really like to know the how-tos. I know he said he does it using the name of Jesus Christ, but there must be a little more to it than that that would be helpful for people watching this show to use."
Corey: Once I realized that I did have entity attachments, I went back, of course, to my background and how I was raised, and I called on the name of Jesus and it worked. They just fled the scene of the crime.
David: Right.
Corey: Later on, I was reinfected with entities by Mara, one of the Inner Earth people that had visited me without my permission.
David: The negative being, in this case.
Corey: Right. In that case, Ka'Aree removed them with some sort of tone from a crystal, and they fled exactly in the same way.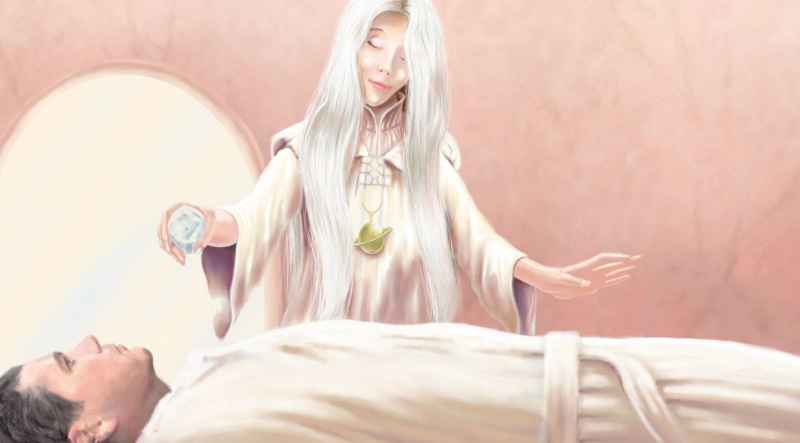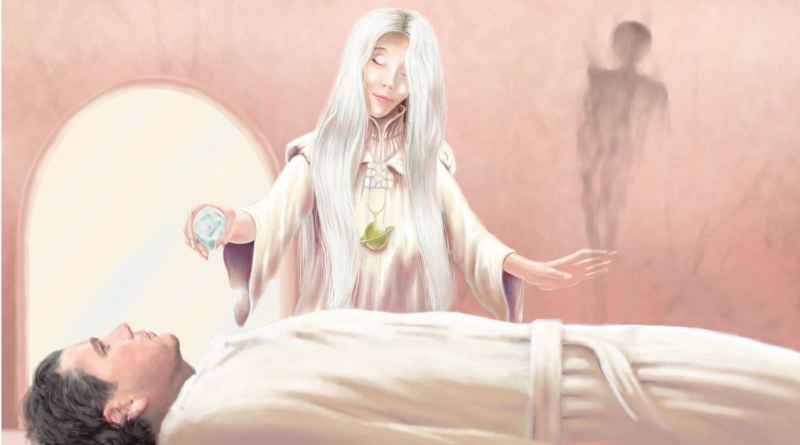 I guess the power that I assigned to the name of Jesus gave it some sort of a vibrational strength with my will and my belief that the name of Jesus would clear me.
So I say that because the tone, the vibration of that crystal, was what drove them out of me the second time.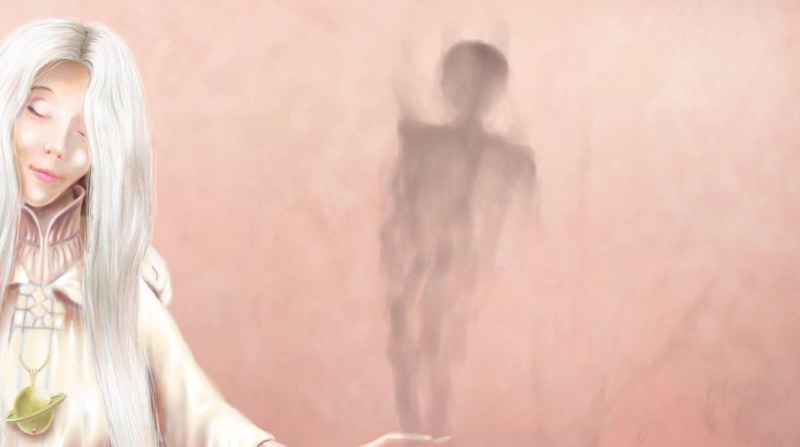 So there has to be other methods of doing it, of course. I'm not going to say you have to go to the Inner Earth and have a crystal waved above you or call in the name of Jesus.
People can do it on their own, but it's very difficult. A lot of times, these entities will act like they've left, you know, "I'm leaving", you know, do the little walking noise and then sneak right back around and come in.
The best thing you can do is just make your body of a vibratory nature that it's very difficult for these beings to coexist with you.
David: We have one from Merwitch Mama. Ha, ha.
"Why are we still calling Gonzales, 'Gonzales'? If he's already been compromised and no longer even on Earth, why can't we know who he really is? It would go a long way toward getting more people on board with this."
Corey: He has family here that I wouldn't want to put in danger. I've already outed him, and it caused a lot of problems with the Alliance, the SSP Alliance. Half of the command and control structure will not show their heads, you know, for command and control purposes.
David: Right.
Corey: So I'm not going to do anything to cause any more damage.
David: I totally agree. Wanderer 1027:
"I am confused as to why the Alliance is more concerned about the Cabal exposing the dirt that the Cabal has on them than they are about giving humanity Full Disclosure. Should we care what individual factions of the Alliance have done more than our own ascension?
"Also, why, Corey, are you concerned about the social effects of Full Disclosure? Society's already broken. We experience a dark night of the soul for a reason, don't we?"
So, I guess the first question is, "Why is the Alliance more concerned about the Cabal exposing the dirt on them than Full Disclosure?"
Corey: Well, because they will be standing next to them in tribunals. They were carrying out orders that were given to them for a long time. And in the process, many crimes against humanity were committed.
David: Stuff that would be so extremely compromising that people wouldn't feel very forgiving?
Corey: Absolutely not.
David: So regarding this idea that the social effects of Full Disclosure, the question seems to be confronting you as if you are concerned about Full Disclosure breaking down society, and they're saying society is already broken. This is just going to give us a useful dark night of the soul if we get Full Disclosure.
Corey: People have all these ideas about what disclosure is going to be if there's a Full Disclosure event. And it is going to be more than a dark night of the souls. Many people are going to die in the process. It's going to be chaos.
It's not going to be people holding hands singing "Kumbaya". It's going to be . . . We are demanding one of the most difficult times in our life. We're demanding we need this disclosure, but we don't fully understand how difficult it's going to be.
I mean, there are countries that have been victimized by the Cabal are going to find out a bunch of information. They're going to want to go to war with Cabal countries.
It's going to be a mess. It's not just going to be people that won't get out of bed and eat because their religion has been basically proven as wrong.
David: Right.
Corey: It's far more reaching than that.
David: So it would seem, then, that even a Full Disclosure, the most ethical way to do it would be in a series of stages where there's some acclimation along the way.
Corey: That's what the negotiations have been all about. The Alliance, the Earth Alliance, they believe that it's irresponsible to just drop it all on the people. They think it should be, you know, put out in a slow way.
But in that case, if you don't put it all out at once, then you're always going to have somebody that's wanting to hold back little bits and pieces.
So I'm for Full Disclosure, but what I'm saying is, everyone out there, be careful what you wish for because it's going to be a lot more difficult even for those in the UFO community than what we think.
David: Well, if you think about, Corey, our own creative process when we were developing "Cosmic Disclosure" with the folks here at Gaia, we were looking at a lot of information that you could tell us about Draco and things like that that were VERY disturbing things.
And we did structure the show so that that kind of stuff came in later episodes after we'd had multiple episodes to try to front load the positive at the beginning.
So do you think there's a way that this could happen with Full Disclosure or are you saying it's like a data dump and it just all kind of comes blasting out?
Corey: That's what Full Disclosure is, is a complete dump of everything.
David: Right.
Corey: And everything . . . I mean, there's going to be a lot of disturbing information.
David: We have another question now from Akhaishimray, and it says, and we've heard this one before:
"Are you not allowed to film your interaction with the Blue Avians or Mica or even just a view aboard one of the spheres? And if so, why? A 360-degree camera would be ideal since that's difficult to fake.
"Why must disclosure only come from a CNN camera?"
Corey: I'm not allowed to bring any technology with me. I'm screened for AI every time I go up. You cannot bring technology with you.
So there's no way I can bring a camera with me and stick it in Tear-Eir's face when he's trying to communicate to me.
David: So you're saying that any technology from Earth could potentially have this AI in it . . .
Corey: Uh-huh.
David: . . . just as the . . . because you also mentioned it can exist as an electromagnetic source.
Corey: Right. Right. It's just security protocol.
David: Right. Is there also some reason, in terms of the Blue Avians and what they're wanting to be disclosure, that they don't want too much proof too quickly so that free will is preserved?
Corey: The way they see it, all the proof, that's all up to us and the process. The only thing they're concerned with is raising the vibration of humanity and raising our consciousness.
The way they see it, if they raise our consciousness, everything else will just fall into place.
David: Sure. Just because this is something that's come up a lot in the discussion forum, people have often said, "Why can't he put some kind of camera in his living room so that if a sphere shows up, he can catch it on film as it's happening, and then that'll be the big event that finally proves that he's telling the truth?"
Corey: Well, the one time that I did put a camera up in my room, the meeting did not occur that night.
David: Really?
Corey: Right.
David: What do you think is the reason for why the beings don't want a definitive smoking gun of proof given to us at this point?
Corey: Everyone has to go through their own process, their own spiritual process in raising their vibration and going towards disclosure.
People say that, "Oh, I'm spiritually advanced. I will not worship beings if they appear."
But that is not the history that these beings have seen with us.
We are programmed to worship something higher, and a being comes in, we'll be, "Oh, this is an angel", and try to apply it to whatever personal religion we have built up in our heads, and then start praying to them, which they already have a problem with.
David: Right. This is a subject we could talk about for a long time, but we are trying to get through a bunch of questions here.
We have one from Jenaceae:
"Okay, so are the Pre-Adamites then what we are calling the Annunaki or are they the step-link between the Annunaki and the elite Cabal sun god worshipers?
"All the sun god people the Cabal worship have elongated heads, right?"
Corey: Well, the Pre-Adamites are basically fallen angels. 55,000 to 60,000 years ago, they pretty much crash landed here after a series of misfortunes.
They are not allies with the Draco, by any means. They've had agreements with them, but they kept the Reptilians in check in the past.
And it was after this last deluge or global catastrophe that caused Antarctica to shift its place on the globe and then be covered in ice that they lost all access to their technology and were then unable to keep the Reptilians at bay as they had done in the past.
So it's really hard. Annunaki is a term that can mean, you know, "from the heavens", or it's kind of a blanket term.
David: Right.
Corey: So the Reptilians are often referred to as Annunaki and so are these Pre-Adamites.
David: Okay. We have John 1111:
"Hi, Corey and David. I am a wanderer, and as a result, a friendly, nonviolent person. But I was wondering if I would incur some sort of karmic debt by wanting to destroy Reptilians? Is there anything wrong with wanting to kill the bad guys or should we just let them be?"
Corey: We have to go . . . and this is going to sound really bizarre, but we have to get to a point in our journey – and it'll probably be well after disclosure – to where we're going to have to forgive those beings, or it's going to hold us back spiritually and karmically.
We're going to actually have to forgive the beings that have been torturing and murdering and enslaving us for millennia.
David: It would appear, if you look at the history of Atlantis, that seemingly benevolent beings, these Elohim, did decide for Atlantis to be destroyed and that a lot of those lives were lost. So it would appear that maybe on a level bigger than individual human free will that nature itself sometimes does things that resolve some of these issues or dramatically reduce the population of a negative civilization.
Corey: Right. These negative beings, they're being neutralized and taken care of right now, not only by higher density beings but by the universe itself, by the cycle that our galaxy is going through.
We still have to fight this battle against them. We have to fight for sovereignty, but after we win the battle, then we have to move to a point where we can forgive them, which is . . . I'm not at that point.
David: I also have often looked at what the Cabal is doing, where they think population on Earth is the enemy and population must be attacked.
And my response to that is, if nature sees something out of balance, nature will take care of it. It's not necessarily our right, or our privilege, if they want to think of it in such a dark way as that, to try to do these things when nature will take care of itself. It has cycles of replenishing and cleansing.
If there is to be a problem, it's not our job to go out there and try to do this.
Corey: Right. And sociopaths are the ones that usually rise to power in these organizations.
David: There you go. So now we have another one. This is from ARW 575:
"If we are all one, then I presume we are one with the Reptilians and all other entities. How can we evolve if we race around the galaxy battling with other entities? Are we not then just warring with ourselves? It gets confusing."
Corey: You have mass consciousness. You have the mass consciousness of humanity, and I've described, when I was shown this mass consciousness being, that it was a traumatized schizophrenic basically.
David: Yeah.
Corey: There is some sort of a battle, but also a process that the Reptilians are growing and learning from these experiences just like we are. It's a hierarchical situation.
At the very tip-top, we are all one.
David: Well, what would you say also about the idea in The Law of One where they explain that we live in the illusion, and that the illusion is staged for the benefit of the development of consciousness?
Corey: It's all about consciousness, the development of consciousness. That's all they care about, these higher density beings. That's really the . . . Everyone is like, you know, what is the reason for life?What is the purpose for life?
It's all about the continual development of consciousness, not only on an individual basis but as a mass consciousness being that we're a part of.
David: Okay, now we have Selene 2:
"What, if anything, does CERN have to do with manipulating the Earth's magnetic field? Anything you can offer there would be useful. Many things for your wonderful disclosures."
Corey: From what I understand, CERN is one of these multipurpose-type technologies. There are different groups of scientists going in, trying to achieve different goals.
They're using it as some sort of a . . . They're trying to interact with the Earth's magnetic field. They're using it trying to create portals. They're using it to also develop torsion field technologies.
It is a laboratory that has multiple purposes. It's not just there to create a wormhole. It's not just there to interact with the ley lines. It is a multipurpose technology.
David: I'll just throw in here that in talking with Henry Deacon, he actually worked on CERN for a while as a job. And he said that it is so difficult to actually get the particles to hit each other that it requires people who are intuitive.
And he was one of the people who was psychic enough to be able to intuitively work the controls so that you'd actually get particle collisions.
I'm wondering if that lines up with anything you heard?
Corey: It doesn't line up with what I've heard, but it makes total sense.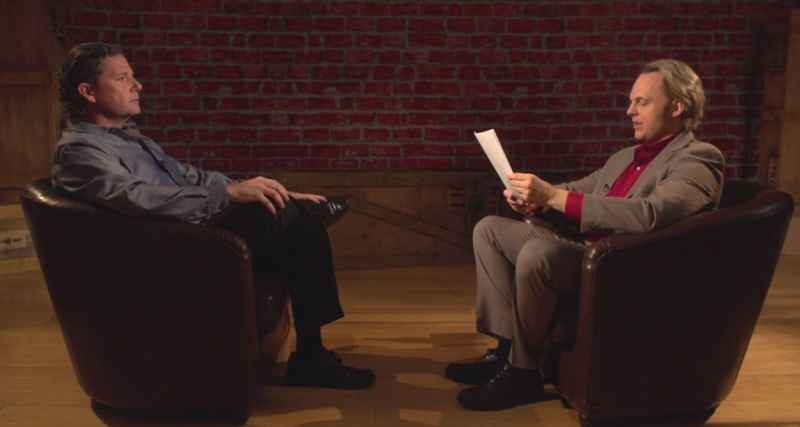 David: Right. Next, we have DJ Miss Mixit:
"Corey, could you please ask some of the beings from higher vibrations the best, most efficient tools for clearing the pineal gland.
"Is there a Hertz frequency I can make? Is meditation enough for me to simply imagine it being cleared?"
Corey: Meditation and diet are the way to go. You want to make sure that you can remove the calcification in your pineal gland, but also you want the pineal gland interacting with your higher self in a conducive way.
So you need to have yourself on the right vibratory level through meditation.
David: I would also just point out, one of the things Peterson said is that the halides, which would be like chlorine, fluoride, etc., pass through the blood brain barrier and attach to the little crystals in your pineal gland, and that's one of the main things that causes calcification.
Corey: That's true.
David: So have the beings told you to avoid tap water and things like this?
Corey: Yes, I only drink spring water at home.
David: Okay.
Corey: Right.
David: Next, we have one from Inscizor:
"My questions are about densities. What density would Jesus or the Buddha have been considered to have moved into after being here?
"How about the in-between live state before one is to reincarnate? How does that fit in with the idea of densities of consciousness?"
"Is heaven considered to be the next, say the fourth or higher, level of consciousness, or is it something entirely different?"
Corey: The way densities have been explained to me is it's all about consciousness. It's different vibratory states of consciousness.
And once you reach a certain vibratory state of consciousness, as we've stated, you can control matter with consciousness.
So you begin to change your environment as you go up the octaves consciously.
David: Okay. We have L. Mensah 732:
"Can mass consciousness toward a specific goal via the Internet be as effective as being physically together in one place?
"For instance, I guess this is Heather Sartain's episode, she mentioned people being on one continent and how that would affect Earth's rotation."
So I think what they're looking at here is could we do, like a mass meditation and reduce terrorism without everybody having to be in the same room like they were in the original transcendental meditation studies?
Corey: Yes, that definitely does work. You don't have to be in proximity with other people. But when you get a lot of people that are . . . they have practiced disciplines to where they can meditate deeply, you get a lot of those people in proximity, there is a power to it, for sure.
David: I agree. So here's another one from Sassafrass 7:
"Good stuff. I have so many more questions. How do the Reptilians reproduce? Do they have a gestation period and then are born similar to mammals on Earth?
"But if they are fourth-dimensional beings, do they need to be born at all or do they just create their bodies with thought? I understand they do eat. Unfortunately, they enjoy eating people.
"I thought a fourth-dimensional being would not need to eat. Does this mean they are doing this only for sport or something like that?"
Corey: Yeah, well, this all goes back to our different belief systems on what dimensions, densities are. A lot of people think that a fourth-density being could be standing right next to us, and we wouldn't see them. We'd be passing through each other. You know, we couldn't hold hands with them.
That's not at all the case. It's just they have a different consciousness vibration.
What I'd normally say is, what do you consider a dog or a bacteria? You know, second, first-density life, you can interact with them, no problem.
David: Right. Sure. As far as the Reptilian breeding cycle and birthing cycle, is there a sexual reproduction that leads to a pregnancy and a birth?
Corey: Exactly. Yes. And they also use cloning.
David: Okay. Lastly, we have 23 Window:
"I wanted to put something forward. The name 'wanderers' and 'starseeds' alone come with a positive connotation, but now, I'm hearing that the Cabal or MILABs identify these kids early along, take them, and fractionalize their brains into doing work for the Cabal.
"Weren't these people sent here in the first place to do good for humanity? Yet, the Draco has infiltrated the Cabal and figured out how to brainwash them and control them for their own purposes."
Corey: Yeah, they basically hijacked their mission. That's the whole point. They hijack their mission. They come here with certain abilities, and then they exploit those abilities.
And in doing so, they're co-opting the enemy the way they see it. They're causing . . . These starseed beings are coming here to effect positive change on the planet.
The Reptilians, for instance, do not want positive change on the planet, so they're corrupting these "soldiers" to fight for them.
David: Well, this obviously is not an airtight system in which all people who are wanderers are being completely compromised.
So could you speak to that a little bit, in terms of how would someone navigate this successfully if they are an ET soul and still be able to do what they're supposed to be doing on the planet?
Corey: Well, stay away from any government organization that tells you you're special. Ha. That's number one.
And practice humility, concentrate on your own personal journey, and meditating on what your mission is. And once you've been awakened to your mission, go for it.
If you do that, then you're going to effect positive change and combat the groups that are co-opting the starseeds.
David: That's all the time we have for in this episode. I'm your host, David Wilcock here with Corey Goode. This is "Cosmic Disclosure" on Gaia. And we thank you for watching.